What Are the Advantages of True Wireless Earbuds?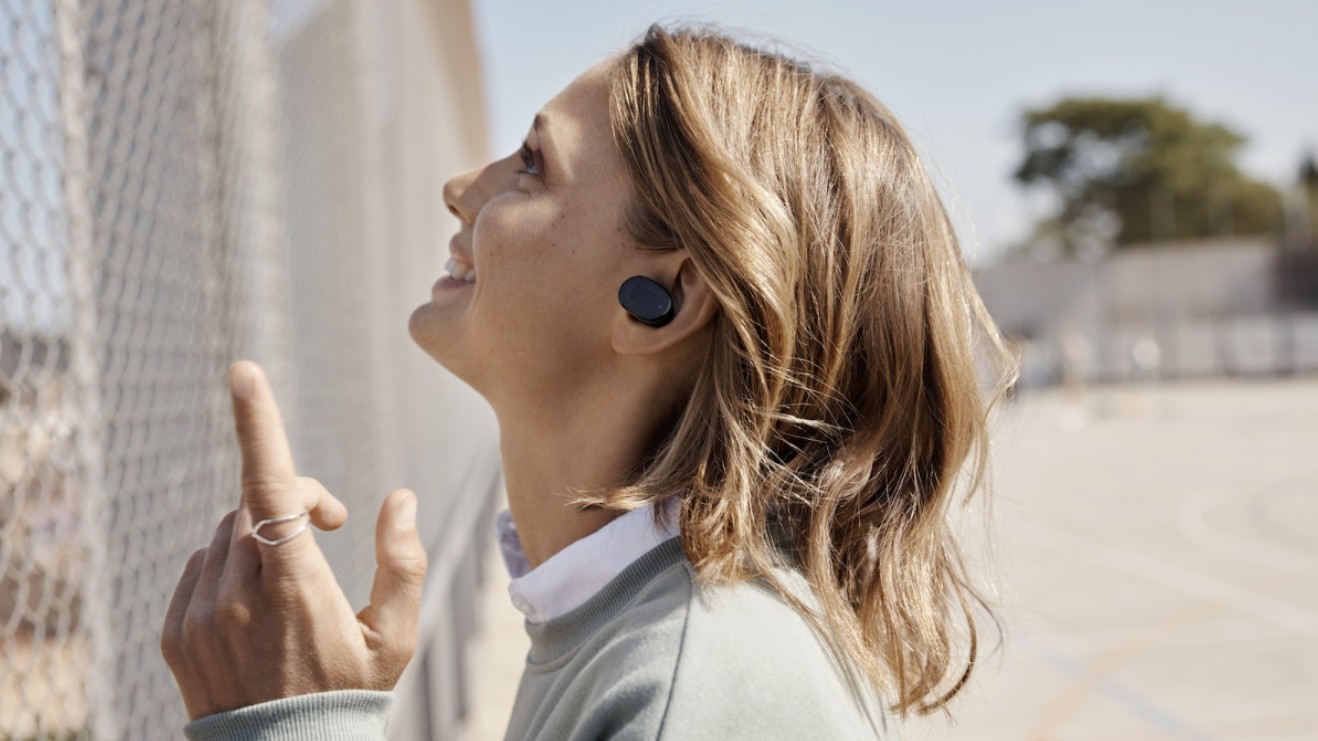 Since new smartphones no longer include wired headphone jacks or even earbuds, there's never been a better time to try truly wireless earbuds.
Plus,
true wireless earbuds
don't just look cool, they have a lot of benefits, including a charging case to keep them full, no bulky cables to tangle up, fewer fragile parts to replace, and more. They're perfect for listening to playlists and podcasts at the gym, on the train, or at the office, thanks to their all-day comfort, long battery life, and powerful Bluetooth technology.
Whether you're looking to upgrade your old wireless headphones, looking for the best earbuds for your workouts, or just wondering why your wireless earbuds keep falling out, we think you'll love the sound and functionality of true wireless. Check out these benefits of truly wireless earbuds.
Less Likely to Fall
If you've ever jerked your earbuds out of your ears during an intense workout or lively phone conversation because your thumbs snagged the cable, you already know one of the main benefits of truly wireless earbuds.
Since true wireless earbuds -- as the name suggests -- don't have any wires at all, you won't accidentally pull them out. Wires also add a lot of weight to your earbuds, which is another reason why they tend to fall out and why true wireless earbuds are more likely to stay in place.
ACCMercado's ear tips fit perfectly and physically block external sound for excellent passive noise isolation, so even if there's too much background noise, you can eliminate distractions.
Ideal for Fitness
Besides being less likely to drop and pull you out of the zone, true wireless earbuds have some other workout-focused benefits.
First, you don't have to be tethered to your phone -- really. If you're at the gym, you can keep your phone in a locker instead of in your pocket or on your armband. But even on neighborhood runs and trail runs, you'll love the fact that the cord is no longer flailing around your face and neck.
Many true wireless earbuds are also sweat resistant, such as the ACC Mercado. So you don't have to worry about earplugs while you're at work - they'll be just fine.
Long Battery Life
Traditional Bluetooth earbuds - the type with a wire connecting one earbud to the other - have to be plugged into the cable and recharged every 4-8 hours or so. True wireless earbuds like the ACCMercado include a USB-C charging case, so they're always ready to rock. These boxes cost extra, so you don't have to be constantly chained to the wall. Instead, they automatically start charging when you put them away.
The ACC Mercado, in particular, delivers 20+ hours of pure, uninterrupted listening before needing to be topped up. Or, if you're running late and find that your earbuds aren't fully charged, you can plug them into the charging case for just 10 minutes and get a full hour of listening time - just enough to catch the last episode of a podcast on your morning commute or gym circuit.
Protective Storage Box
This case does more than keep your earbuds charged. Quality true wireless earbuds are an investment, and you want to protect them. Traditional wired Bluetooth earbuds don't always come with a case, but truly wireless earbuds almost always do.
ACCMercado comes with a sleek USB-C protective storage and charging case that protects your earbuds from unexpected turbulence while keeping them charged and ready to roll. Simply slip your headphones into the case, toss the case into your bag, and enjoy premium immersive audio quality.
The truly wireless earbuds have no wires anywhere - not even the back of your head - so you can enjoy a tangle-free life. If you want to buy true wireless earbuds, please
contact us
.
ACCMercado provides professional
consumer electronics solutions
. Our services are based on 20 years of mature industry experience, and we cooperate with various powerful partners to meet the regional needs of global customer brands and provide professional one-stop third-party brand customization services. After 15 years of operation, it has successfully established branches in China (Dongguan), Italy, France, Portugal, Poland, Hungary, Morocco and other places.