Portable Power Station Guide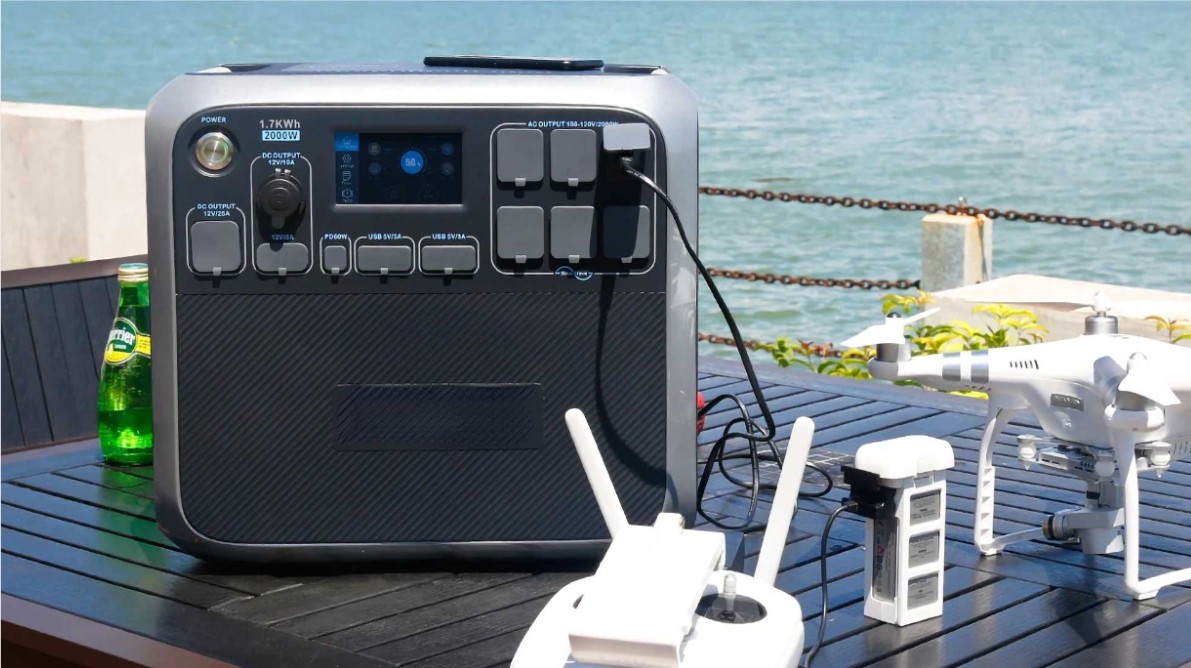 It was one of those cold weekends after a long, tiring week. You've arrived at the campsite, pitched your tent, and are ready to prepare dinner for your family. Now is the perfect time to play some camp music.
But to your dismay, the bluetooth speaker is dead, and there's no way you can get your only power bank to set the mood.
So you've just found yourself in a situation where you need a portable power station to save your outing. For those still unfamiliar with the term, let's dig a little deeper.
In recent years, portable power stations have become increasingly popular. They are essentially high-capacity portable battery packs that can charge many devices and small applications from rechargeable cells. This means you don't need any fuel to keep running.
Portable power stations often have a combination of AC outlets, DC outlets, USB-C outlets, USB-A outlets, and car outlets. With these, it's now easier than ever to stay close to a power source.
Why Do You Need a Portable Power Station?
From the roughest adventures to family camping trips, keep all your gear charged and ready so you can explore without limits. Here are some other reasons why having a portable power station is beneficial:
1. You Spend a Lot of Time on the Road
If you're into camping or adventuring, having a compact portable power station can come in handy when you don't have an outlet available.
2. Charge All Your Devices and Small Appliances at Once
Compared to power banks, portable power stations have a much larger capacity and can charge all your essential devices wherever you go. Time to get rid of bulky adapters and cables!
3. Continuous Power Supply During Power Outages and Emergencies
Want to be prepared for power shortages in your home and survive a power outage? It always pays to have a portable power station. Having one allows you to continue with your daily activities like cooking or keeping essentials powered up.
4. Rechargeable and Green
Unlike traditional gas generators that pollute the environment, portable power stations provide clean and sustainable electricity for a long time. They can also be charged via solar panels.
What Should You Pay Attention to when Buying a Portable Power Station?
We've put together 5 main factors to consider when buying a portable power station. When you're shopping around, paying close attention to these features will help you choose the product that best meets your needs.
1. Choose the Right Capacity
It refers to the size of the battery and how much power it can provide, measured in watt-hours (Wh). The bigger the capacity, the longer it will charge your device!
If you have low power requirements and can only charge your phone, tablet, or laptop, you can choose a portable power station with a smaller capacity between 200-300Wh. For longer trips like a weekend getaway where you want to cook and make coffee in addition to using your personal devices, getting a mid-range portable power station of around 500Wh would be ideal.
For those of you who like to live off-grid often, having a power station with over 1000Wh can support your tools and equipment. Of course, also be prepared for foreseeable extended power outages, such as during snowstorms.
2. Choose a Longer-lasting Battery
A long-lasting power station is important because it can keep your essentials powered during long trips or power outages. The first thing to look at is the battery, which is the heart of the portable power station.
You want to make sure it has a LiFePO4 (Lithium Iron Phosphate or LFP) battery at its core for longer life and better safety. They are commonly used in high-power applications such as electric vehicles, power tools, and radio remote control (RC) vehicles.
Lithium Iron Phosphate batteries have a significantly longer service life than NMC batteries typically used in portable power stations. They are capable of delivering 3,000 charge cycles, compared to an industry average of 500. This means your power station can last for years without losing its capacity. Ever had a phone that died shortly after being fully charged? This is because its battery has aged and lost capacity. You definitely don't want your power supply to die in the middle of a trip or during a power outage.
Another advantage of LiFePO4 batteries is that they are super safe to use due to better thermal and structural stability. In other words, LiFePO4 batteries are non-flammable and can withstand high temperatures without decomposition. This is not available with lead acid and other battery types.
3. Durability
Get a portable power station built for the great outdoors, with a unibody design that provides durable construction. That way, it's always ready to go with you on your next great adventure.
4. Good Build Quality
In addition to using a safe battery with a solid case, look under the hood. Make sure your portable power station has industry-standard electronics and high-quality materials inside.
5. Number of Ports
Getting a portable power station with enough ports is important to meet your off-grid power needs. For example, if you tend to charge appliances more often, you can choose appliances with additional standard outlets.
Planning a weekend road trip for an extra sense of security without worrying about power shortages? These durable, portable power stations are practical enough to take with you wherever you go to keep your equipment running for a day or more. If you want to buy a portable power station, please
contact us
.
ACCMercado provides professional
consumer electronics solutions
. We are mainly engaged in 3C digital accessories, with 15 years of industry experience and complete production and R&D capabilities. Spain European and American Electronics Co., Ltd. was established in Madrid in 2003. After 15 years of serious operation, it has set up branches in Dongguan, Italy, France, Portugal, Poland, Hungary, Morocco and other places.